Here are our release notes for FG Funnels from August 30th, 2023 through September 6th, 2023. If you have any questions about these updates, or other questions about FG Funnels, please reach out to support@fgfunnels.com or live chat in the app and our team will be happy to help.
Opportunities
Enhanced Exports
We are excited to introduce three significant enhancements to the Export for Opportunities, designed to streamline your experience:
Export of Custom Fields: Now the Exported File will include all custom fields associated with opportunities. Any custom fields created for opportunities will seamlessly be integrated into the exported data.
Filter Based Export – Enjoy more control with the ability to export opportunities based on specific filters. This ensures that only relevant data, ie opportunities that are visible on the board are included in your exports.
No Limit on Opportunities Exported – Say goodbye to export limits. All visible board opportunities can now be exported without any constraints.
Export option is available in the menu options beside the create Opportunity Button
Remember: Avoid page reloads or navigating away from opportunities during an ongoing export.
LC Phone
Reroute SMS traffic via Toll Free
This flow will be triggered when the "to" number is a US number AND the A2P Campaign Starter or Standard is not approved AND the "from" number is US AND the format is not +1 8 XX (Toll Free)
If the location has one toll free number we will use it.
If the location has multiple then use the one which is default, if none are default we will fetch randomly.

Campaign Failure Reason and optimizations for A2P Flow
All the Failed/Rejected campaigns will now have associated failure reasons with it
The Campaign Registration flow has Sample examples which can be easily copied and even can be seen while filling the form
Canada now only accepts BN-9 as the registration number so CCN has been removed
Inbound Calls Browser Notification
For a new inbound call on the web application you would be receiving a browser notification if you are not active on that tab.
Fixed Phone Number, TF Registration and Advance Settings
Number Purchase loop issue because which caused an issue with purchasing certain phone numbers
Reg Bundle selection flow has been imported to avoid failure in buying numbers
Character Limit validation added to the TF flow fields to avoid failures
Added all countries in the address drop down for TF registrations
Advance Settings refresh was changing the default custom provider on UI, this is fixed now.
Custom SMS Providers were not getting displayed which has been fixed now.

A2P Verified Status for Numbers
Introducing the A2P Verified status at a number level on "Manage Number" tabs inside Location Settings -> Phone Numbers.
Sole Prop Brands and Campaign will have only 1 number linked to it and the same can be seen in the UI.
Standard Brands and Campaigns can have multiple numbers linked to it and all of them can be seen on the UI.
Note – This would not be visible for non verified numbers.
Toll Free Registration Flow
Added Sample Examples in the form similar to the A2P flow for all the open text fields
Fixed the Postal code validation to allow non numeric text
A2P Flow Enhancements
Gave more priority to "Only 1 Phone Number allowed" in the Sole Prop Brand Info
Added more prominent info "Only 1 number is allowed to be linked to a Sole Prop Campaign. Once approved your default number will be linked automatically." in the Sole Prop Campaign Reg flow.
Communities
Private Group Updates
Membership Rejections Notifications: Declined requests trigger automatic notifications for members
Request Notifications: Admins and owners now receive quick notifications for new membership requests
Public Groups Updates
Welcome Emails: Public group members now receive welcome emails for an improved onboarding experience
Request Notifications to Admins and Owners
Admins and owners are instantly notified of new membership requests. Plus, we've added auto login and direct access to requested members
UI/UX Enhancements
Bringing in some more optimizations and design changes in home timeline, user profile, group settings etc.

Bug Fixes

Promotional Links
Social Icons

Additionally, we refined Communities timelines to look better on tablets and mobiles phones.
New integration with Conversations and Contacts for seamless community member engagement.
Workflows
Opportunity Created & Opportunity Changed Triggers
Triggers can be set up with multiple filters like assigned to, pipeline, tag, lead value, and status.
Users now can have multiple use cases just around opportunity creation or updating existing opportunities, resulting in easy setup and more adoption.
Proposals & Estimates
Upload a Page Background Image
Users will now be able to upload a background image for a page using Page Properties
This will allow the ability to define a customized background for proposals/estimates and lay over any element on top of it
Users can also define the image position (center/top/left), size (Fill page/Fit to size), repeat (horizontally or vertically), and set an opacity percentage to the uploaded images
This opens tons of possibilities to use the tool by directly uploading brand-customized images and signing agreements above it
Forms + Surveys
Introducing Short Label in New Form and Survey Builder
The "Short Label" feature in a new form and survey builder provides a succinct and informative descriptor for each input field, question, or section within your form or survey. This feature is designed to enhance the clarity, usability, and overall user experience of your forms and surveys. Here's how the "Short Label" feature works and why it's valuable:
How It Works
The "Short Label" feature allows you to assign a brief and focused title or heading to each element in your form or survey. This label serves as a quick overview of the content or input expected from respondents. It's positioned below the respective input field, question, or section, ensuring that users immediately understand its purpose.
How to Incorporate Short Label
Enable New builders from Labs
Open Form or Survey and Add some fields
Click on any fields
User will be able to see short label input in right side
Add description inside short label input of selected fields
Additionally, In styles user can change the font size, font family, font weight and color of short label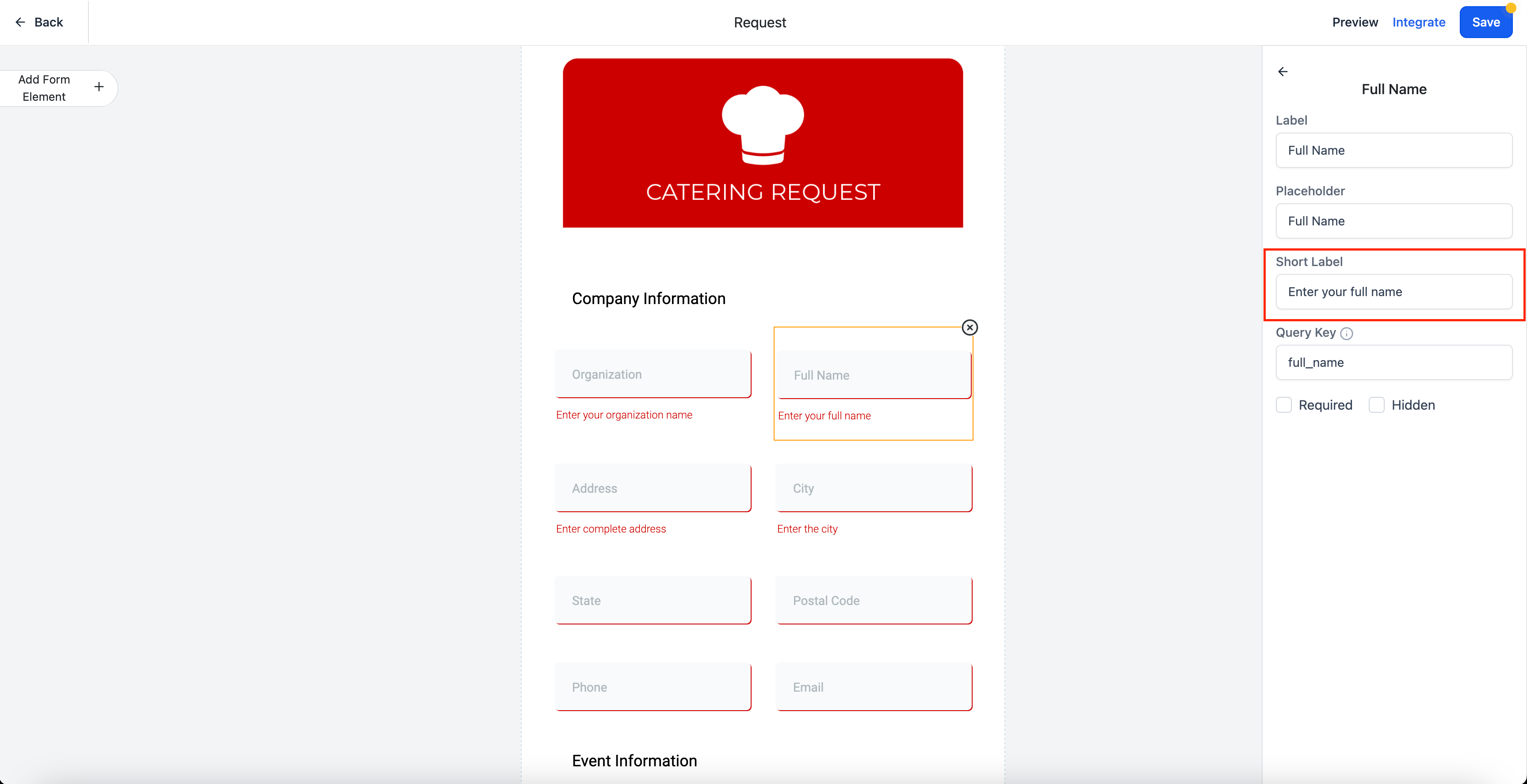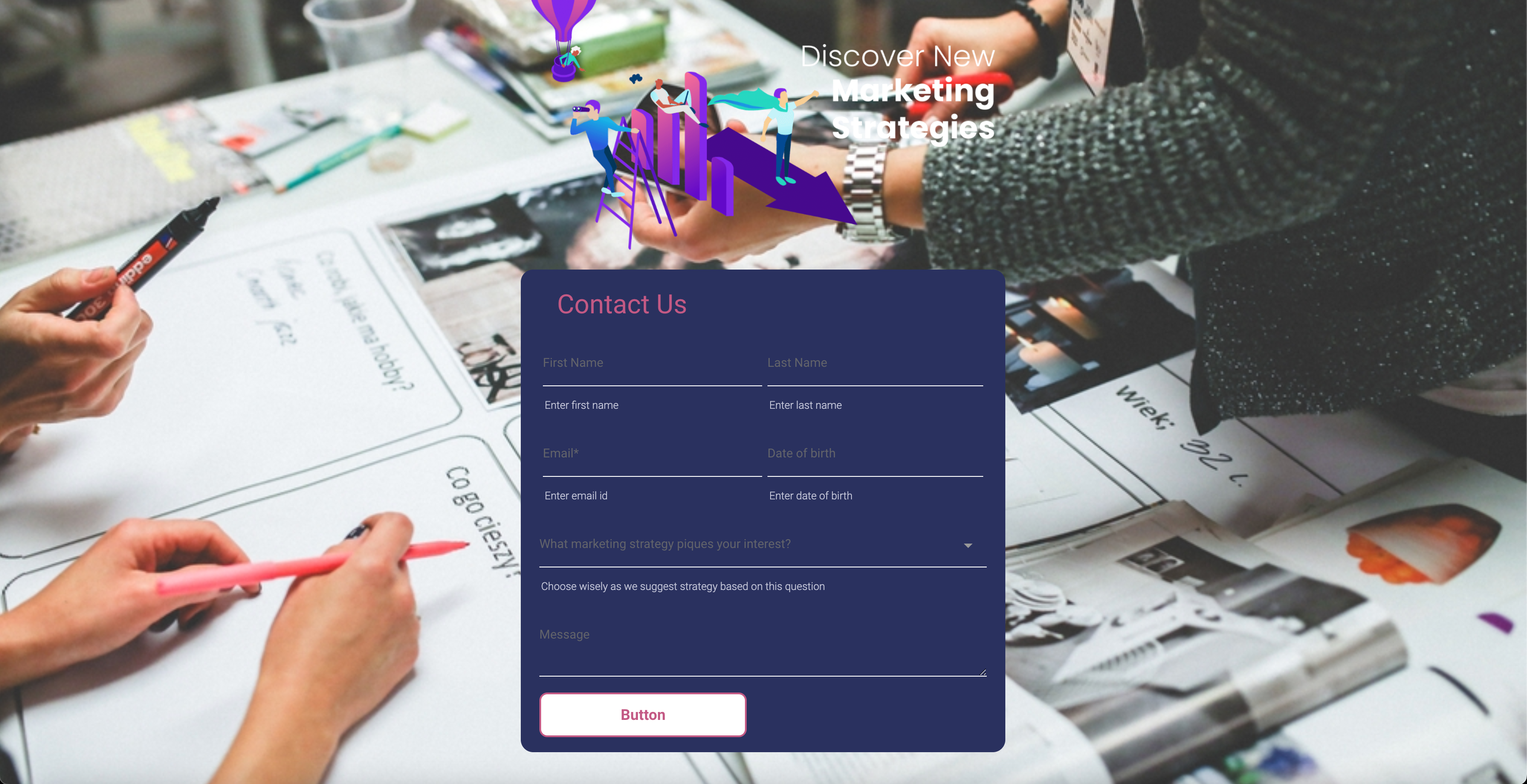 Google Fonts in New Form and Survey Builder with GDPR-Compliant Typography Option
We are thrilled to present a cutting-edge feature in our brand-new Form and Survey Builder: Google Fonts integrated seamlessly with GDPR-Compliant Typography.
Why Google Fonts with GDPR-Compliant Typography Option ?
Design Versatility: Choose from more than 1500+ fonts, encompassing diverse styles and tones, allowing you to align your forms and surveys with your brand identity or design preferences.
GDPR Compliance at Its Core: Data privacy is paramount. Our GDPR-Compliant Typography ensures that the fonts you use in your forms and surveys strictly adhere to GDPR standards, offering you peace of mind when collecting and managing user data.
Professional Visual Appeal: Typography can significantly influence the visual appeal of your forms and surveys. With Google Fonts, you can effortlessly elevate your designs, making them appear polished and inviting.
How It Works
Integrating Google Fonts with GDPR-Compliant Typography is intuitive and user-friendly. Here's a quick guide:
Enable New Builder: Enable new builder from Labs section in your location settings
Access Google Fonts: Open a Form and Navigate to the Font Family Settings section of our Form and Survey Builder, where you'll discover a handpicked collection of fonts that are GDPR-compliant and suitable for various design needs.
Select Your Fonts: Choose the fonts that best align with your design vision and GDPR compliance requirements.
Fine-Tune Typography: Customize font size, style, and weight to achieve the exact look and feel you desire, all while maintaining GDPR compliance.
How to Enable GDPR compliance Font: Go to right sidebar settings, In Options tab you can find switch to enable or disable GDPR compliance Font
Note: If You don't find your font in the list then use search feature attached to font family select options that will search all possible google fonts for you.
Examples: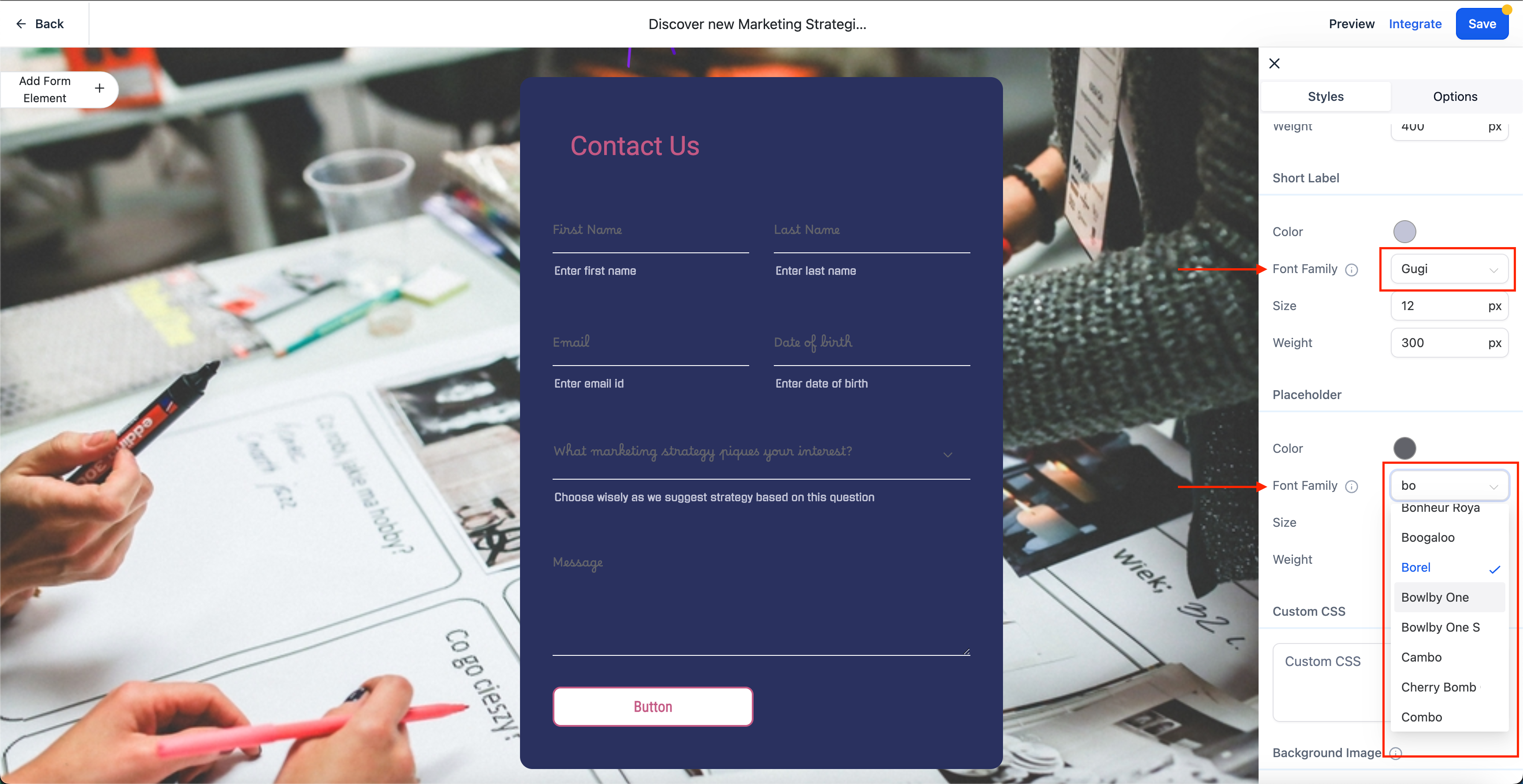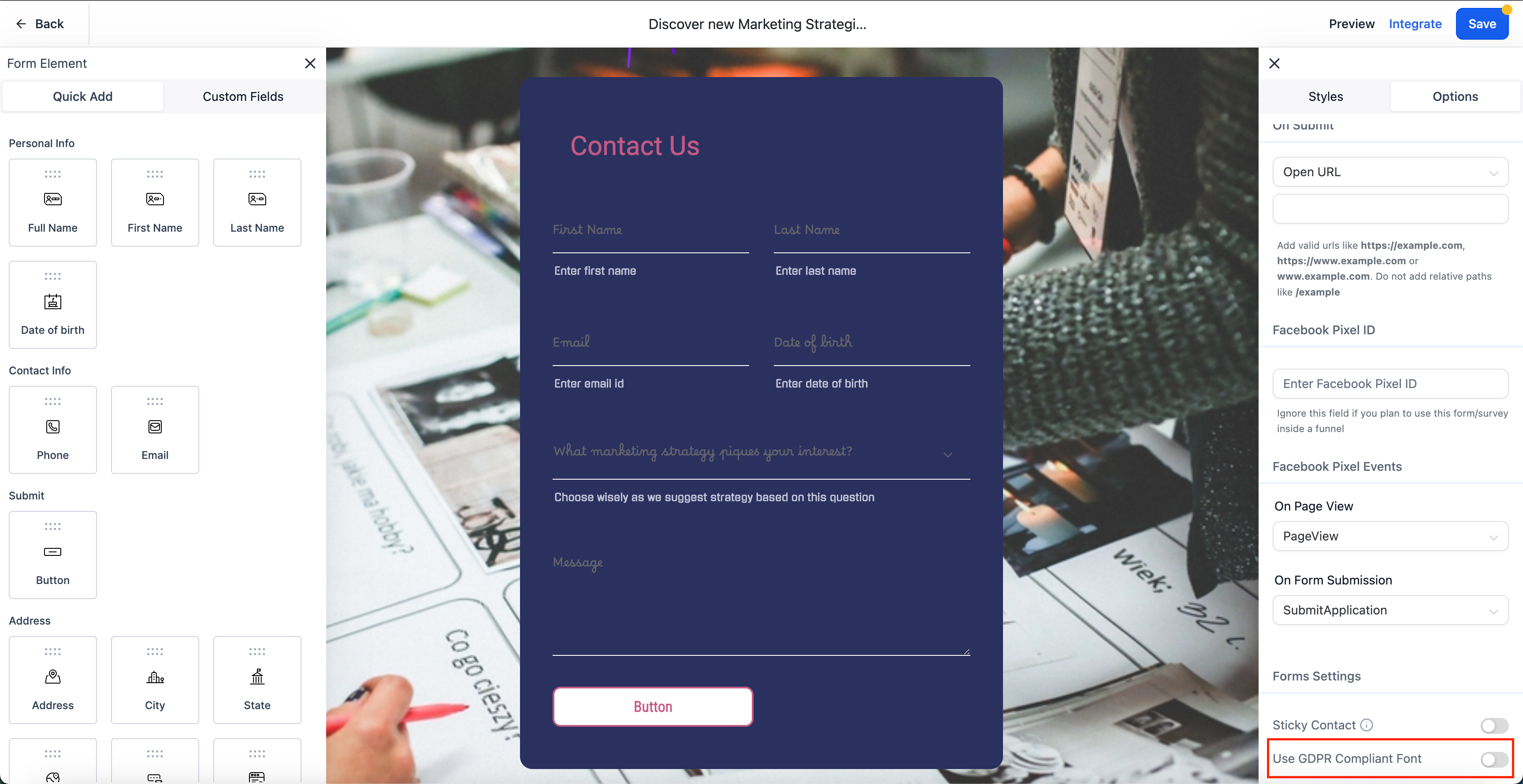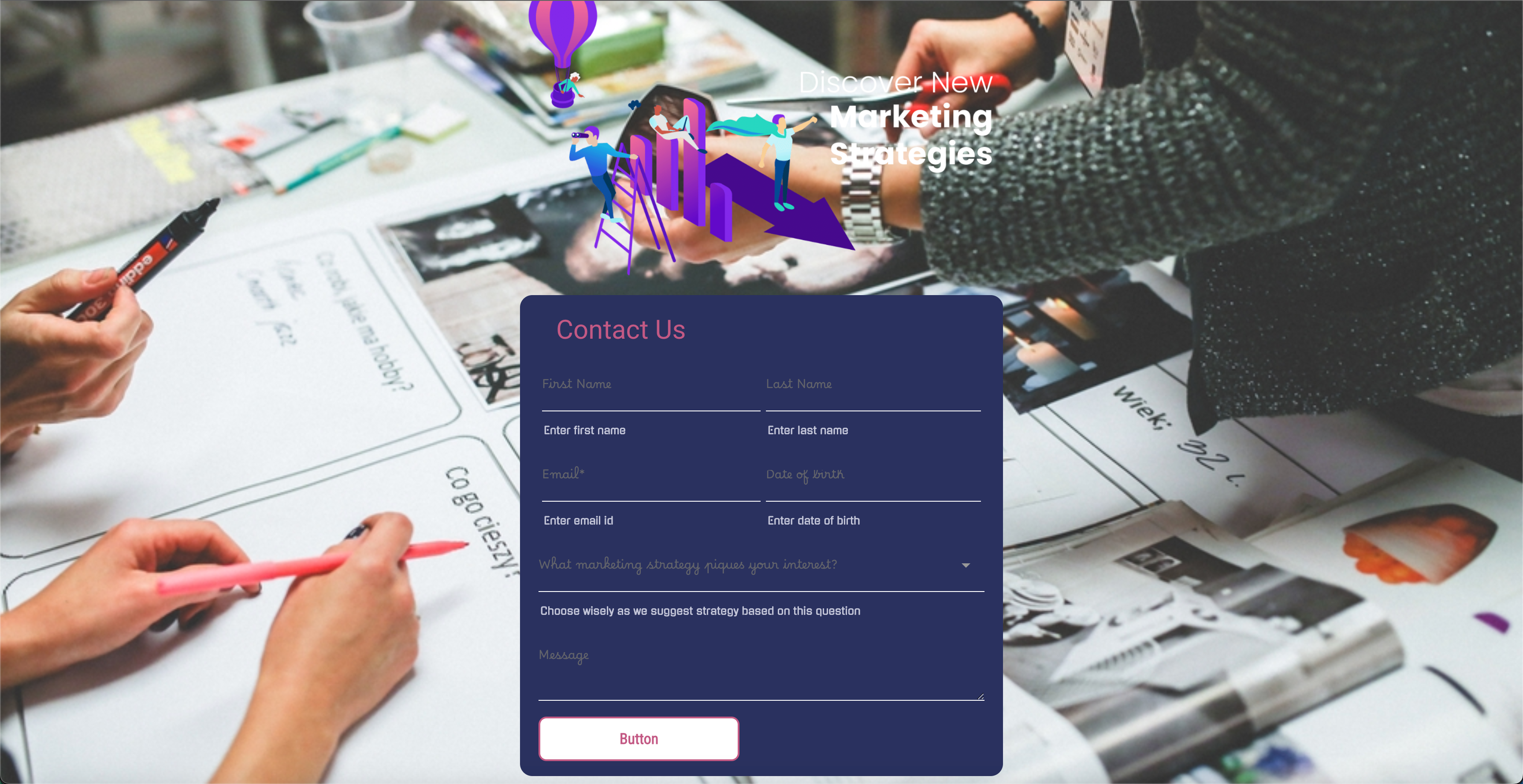 Funnel + Website Builder
Typography Preview Live in New Funnel/Website Builder. You should be able to turn on the Brand New Funnel Builder under Settings>Labs to use the feature.
Old Behavior
Users have no idea how a font looks like when they try to select a font from the Typography settings.
Font has to be applied in order to see how it looks which is an extra step for users
New Behavior
Users will now be able to search fonts across the list of 1500+ available fonts in Google Fonts, and see how it looks like in the font selection dropdown itself instead of applying it and then seeing how it looks
This reduces an extra step and makes the funnel/website building process faster.
How It Works
Go to location settings and turn on Brand New funnel Builder,
Go to the Builder and Go to Typography to see your font.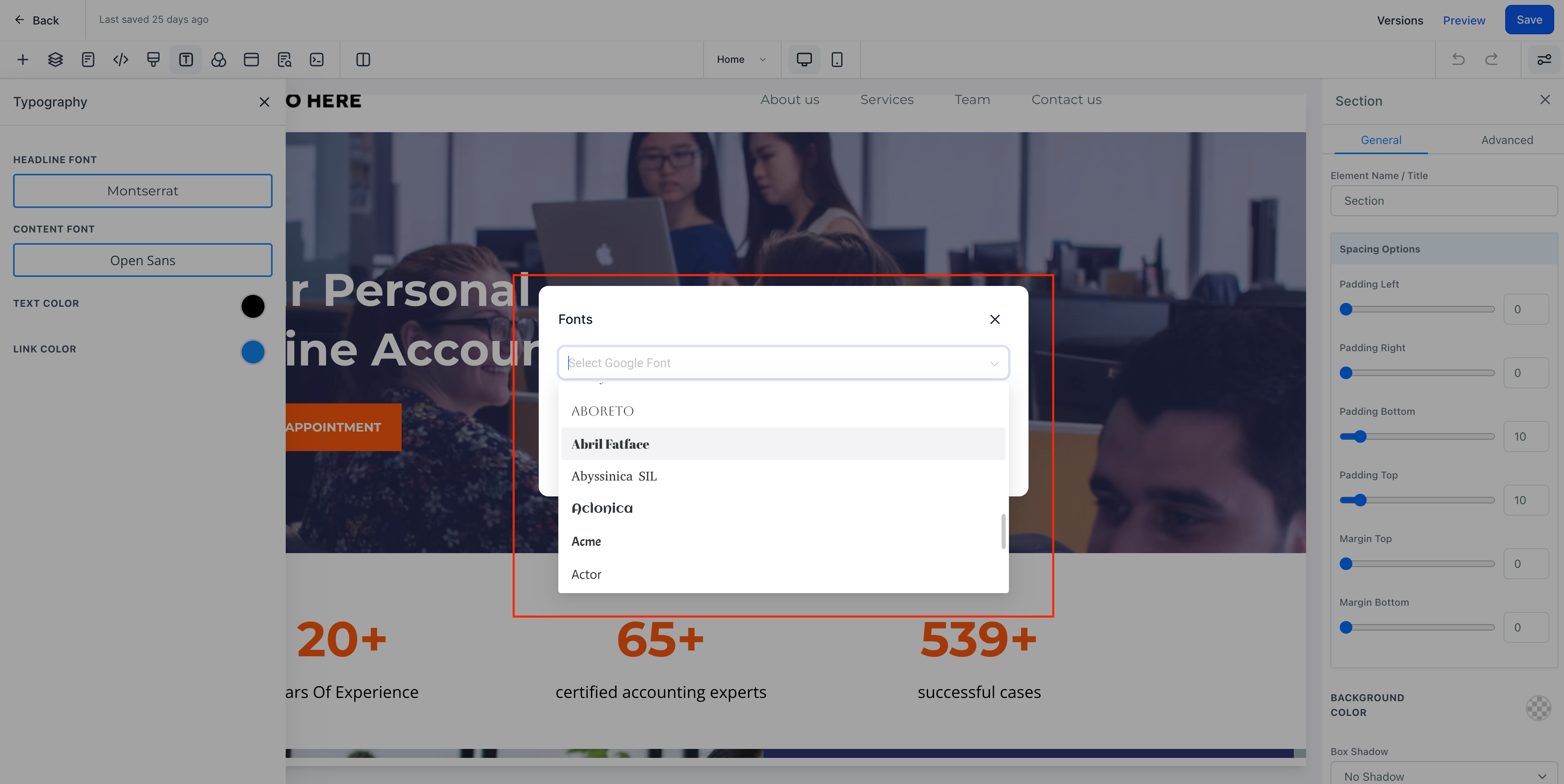 Workflows
Opportunity Triggers
Workflow now has two more Opportunity triggers:
Opportunity Created
Opportunity Changed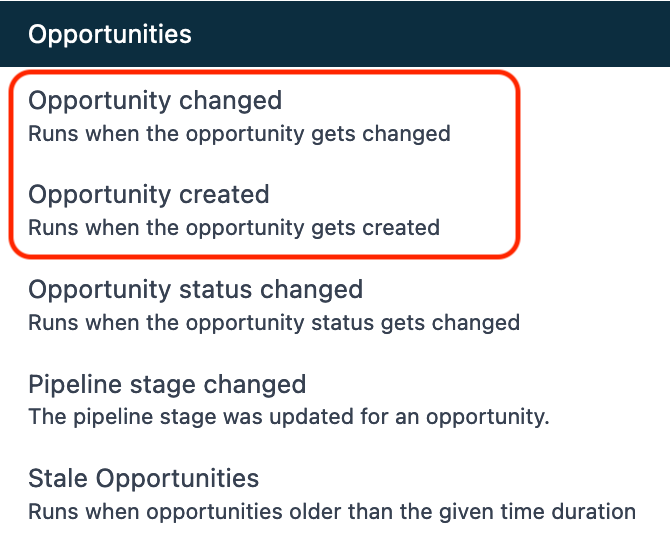 Triggers can be configured with different filters: Assigned to, In pipeline, Has Tag, Lead value, Status, Opportunity Custom Fields and Contact Custom Fields
Payments + Invoicing
Payment trigger now fires off for PayPal transactions
Pagination has now been added to the Payments module
This provides businesses the ability to view more than 10 records per page for all list views available in the Payments menu like Invoices, Orders, Subscriptions, and Transactions
PayPal transactions are now tracked in the Payment Received trigger. This allows businesses to fire off triggers for payments made via PayPal, filter by success/failure, or for the product that was purchased
The issue with the search option not working accurately on the list pages under Payments has now been fixed. Businesses will be able to search for a subscription/transaction using the Customer's name accurately now