Here are our release notes for FG Funnels from August 23rd, 2023 through August 30th, 2023. If you have any questions about these updates, or other questions about FG Funnels, please reach out to support@fgfunnels.com or live chat in the app and our team will be happy to help.

CRM
Email Signature Fixes and Improved Formatting
Previously: Users were experiencing formatting issues with email signatures due to the TipTap editor. This affected the new email composer on the Conversations page and email signatures added by sub-account users on the My Profile page.
Resolution: We've tackled all the major formatting challenges tied to the TipTap editor.
Activation from Labs:

Customers can now activate the 'New Message Composer' and the 'Profile V2' feature from Labs to begin using these improvements without any issues.

Important Note:

With this update, email signatures will render correctly, resolving a primary concern that made many hesitate to enable these features.

Proposals & Estimates
Hyperlinks support and Mobile compatibility for signatures
Customers will now be able to accept and sign proposals on mobile browsers
This includes the support for signing documents on mobile, marking them as finished, and being able to download a PDF of the signed document
We have also fixed the ability to insert hyperlinks in the documents created. Users will now be able to insert hyperlinks while sending documents to potential leads/clients
Additional custom fields
Additional custom fields are now available inside the Proposals and Estimates builder nested under the Contact section
This would allow businesses to auto-populate additional data stored as custom fields for contacts while sending a proposal/estimate
The populated value will be visible on the preview link along with the downloaded
Opportunities
Add Lost Reason
We have implemented the following enhancements for the ability to capture lost reason for lost opportunities
The modal over modal is removed for creating a new lost reason
New lost reason can now be created by clicking on the create button at the bottom of the dropdown
UI fixes for assign lost reason modal on dragging the opportunity to lost

Update assign lost reason modal width
Remove camel casing from text in the modal
modal footer in assign lost reason should be 100% width

Lost reason will also be accessible from the contacts page as well
Localization
Added localization support for following languages in Pipeline settings and Company page

English_US
Danish
German
Spanish
Finnish
French_Canada
French_France
Italian
Dutch
Norwegian
Portuguese_Brazil
Portuguese_Portugal
Swedish
LC Phone System
A2P 10 DLC Banner
The banner will only be visible inside of accounts who are under LC Phone and who have at least one US Local/Mobile number and have not completed A2P Reg.
This will not be visible again if someone closes the banner.


LC Email
Enhanced Metrics and Improved Email Policies
We've enhanced the overall email metrics to now include Unsubscribed and Failed data. Now have a fuller picture of how the campaigns are performing!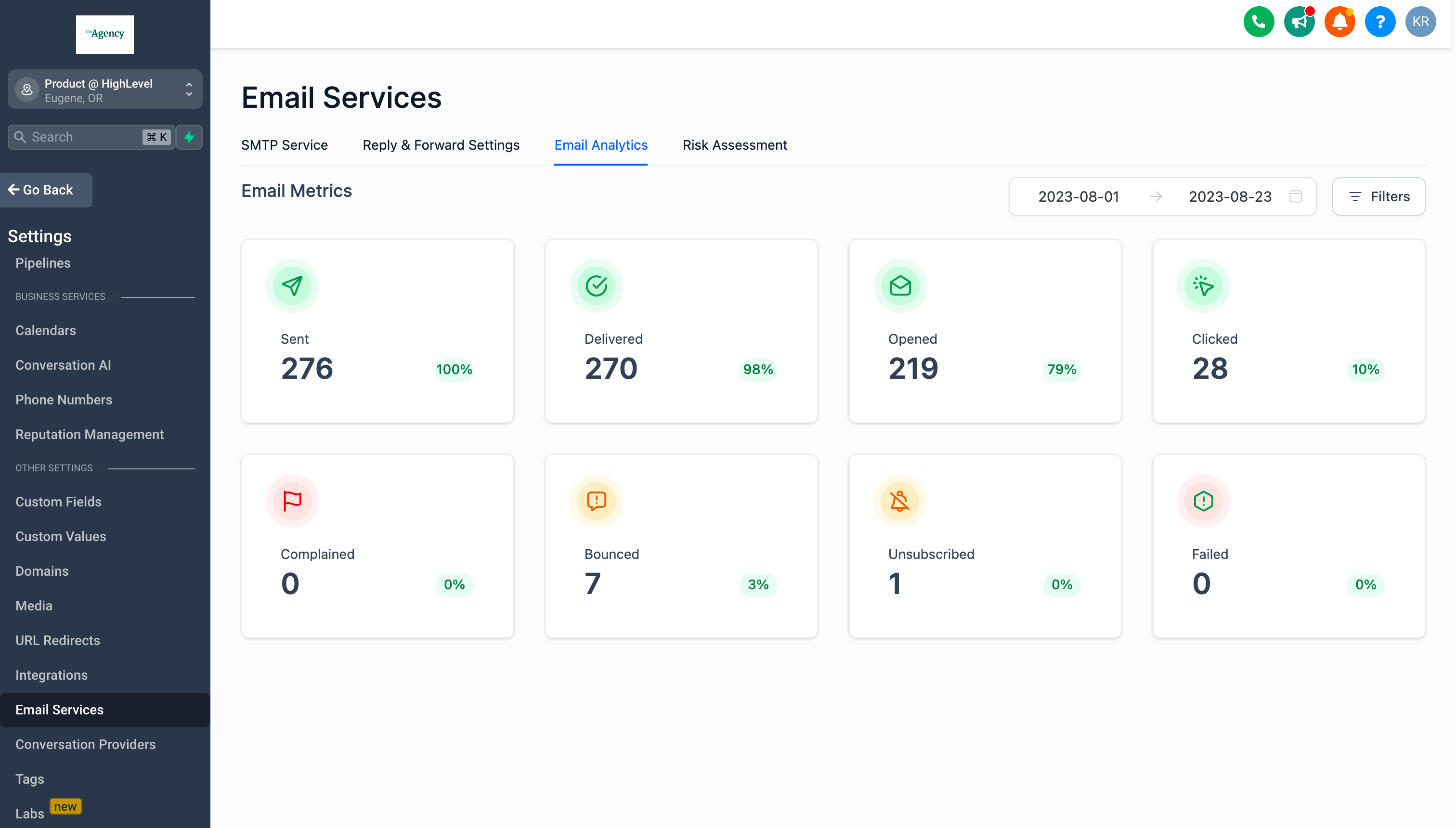 Empowered Control: Swift Unblocking
No more waiting for 12 hours or contacting support to get unblocked!
Agencies/Subaccounts can activate email validation themselves to lift the block immediately.
To lift a permanent email sending block, users will be prompted to enable email validation. Doing so will automatically remove the block.
Introducing Advanced Risk Assessment for Email Campaigns
This feature meticulously analyzes your imported email contacts, assigning a risk level to each. Get real-time updates on potential risks, directly within the app and also via email.
Understanding Risk Assessment
Our risk assessment process is triggered whenever your clients import new contacts. Through a comprehensive validation procedure, we thoroughly evaluate the quality of these contacts. Based on the results, we provide immediate notifications to the Subaccount and Agency.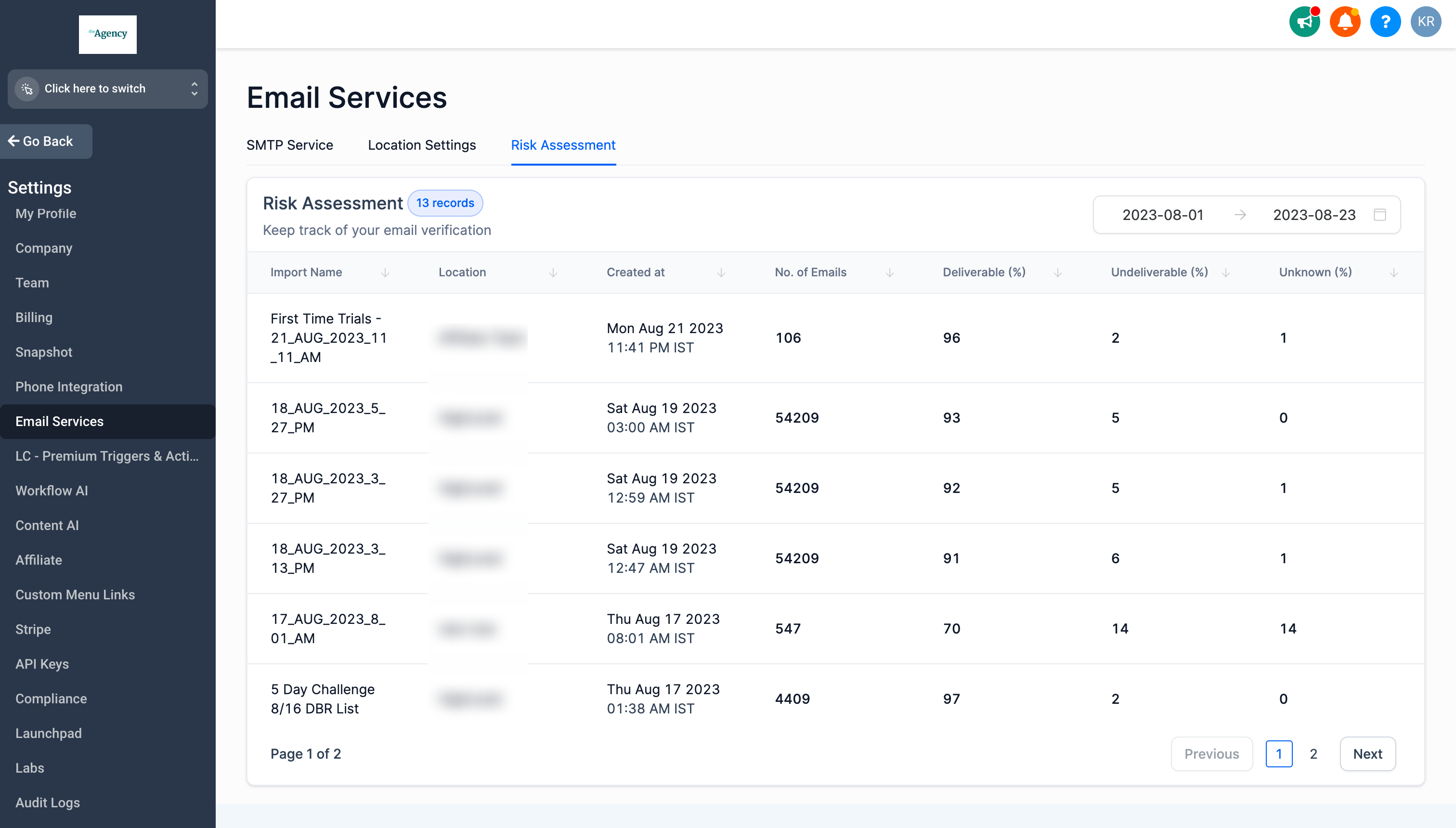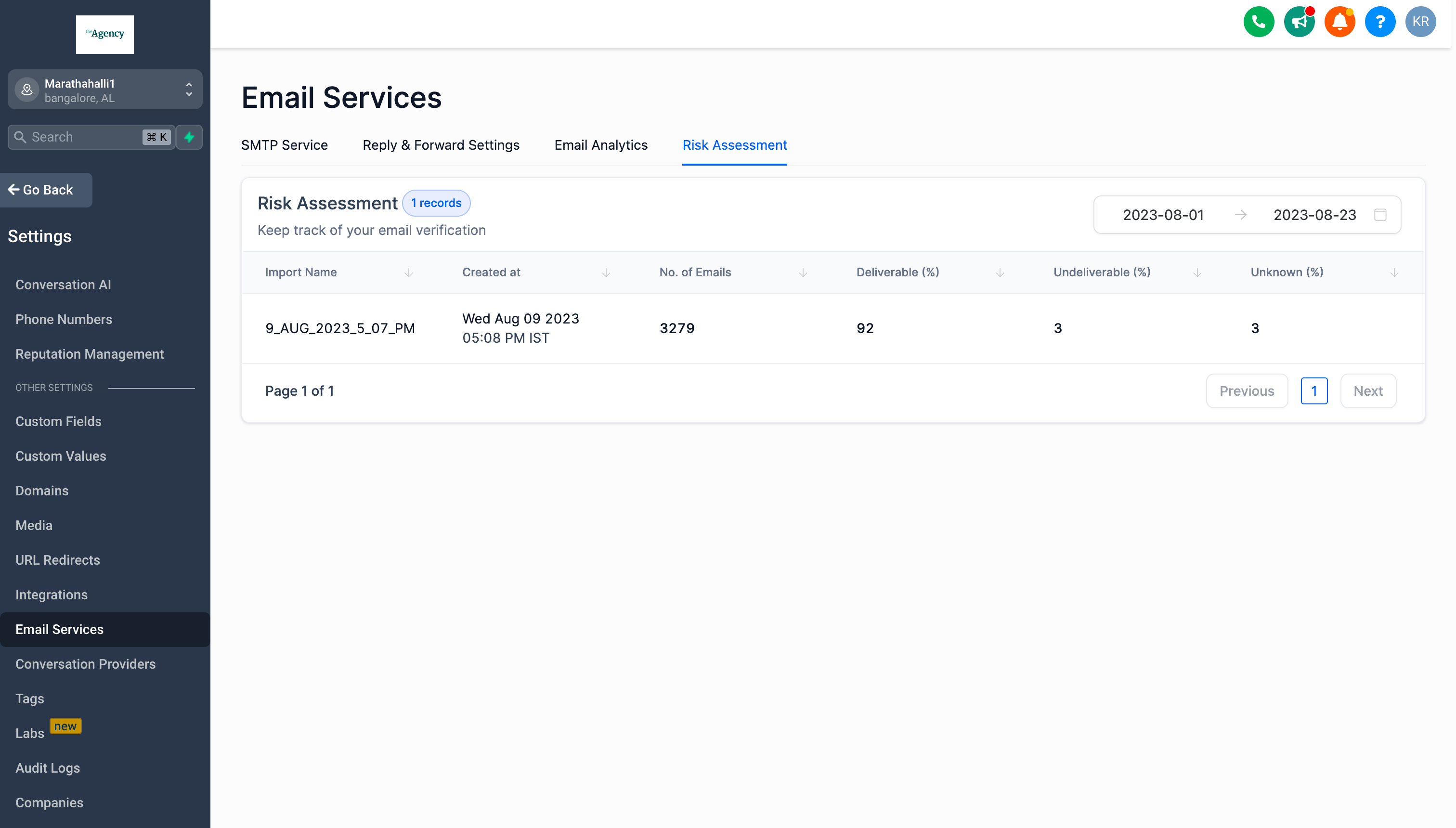 Here's how the notifications work:
High Risk (Deliverable < 90%): An error notification will be prominently displayed, accompanied by an email sent to both the agency and subaccount. This ensures that any issues are addressed promptly.
Moderate Risk (Deliverable between 91% and 95%): A warning notification alert will be displayed, giving a heads-up about potential concerns.
In-App Guidance: we provide a link about enabling the email validation for both the Agency and Subaccount.
To access the validation records table, navigate to Settings ➝ Email Services ➝ Risk Assessment tab.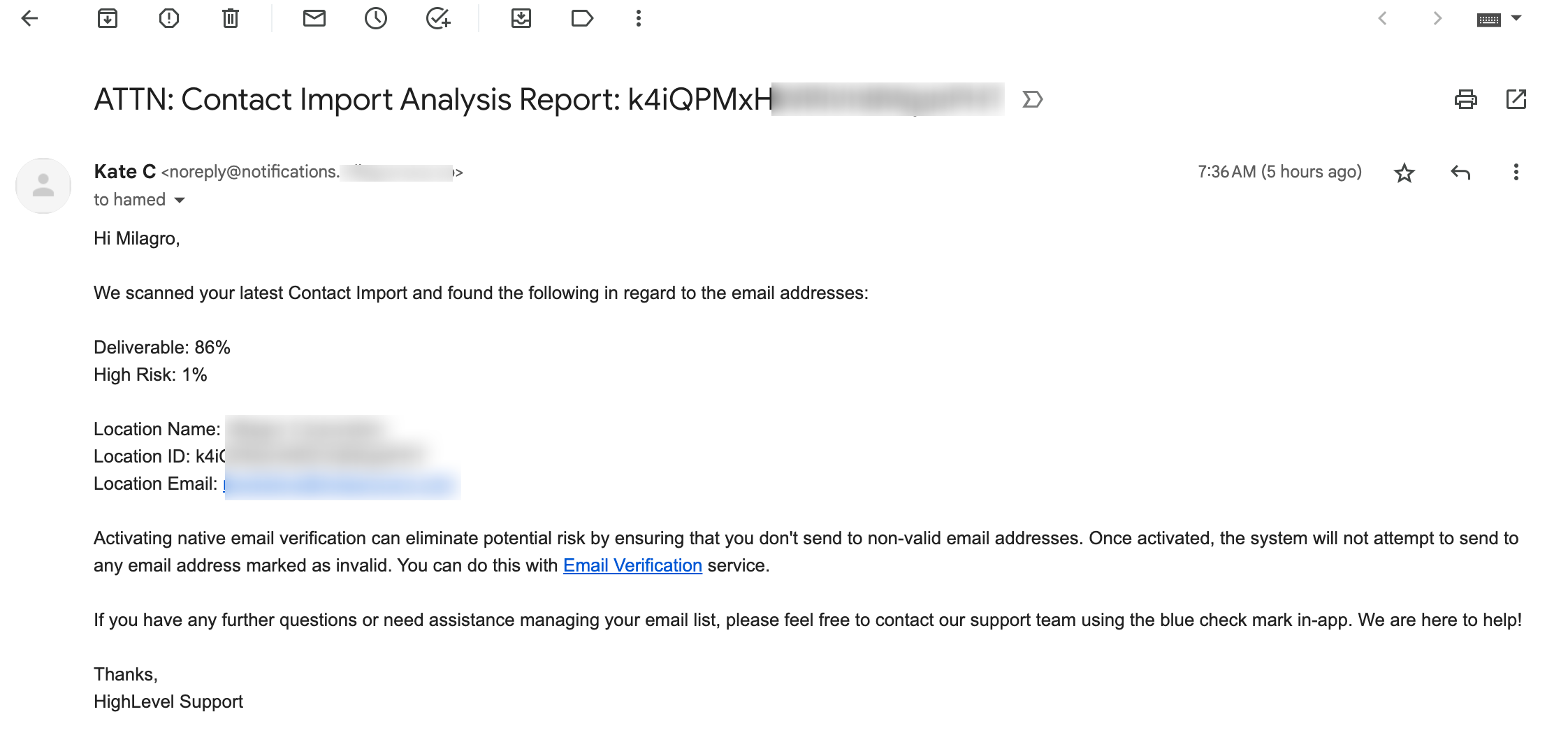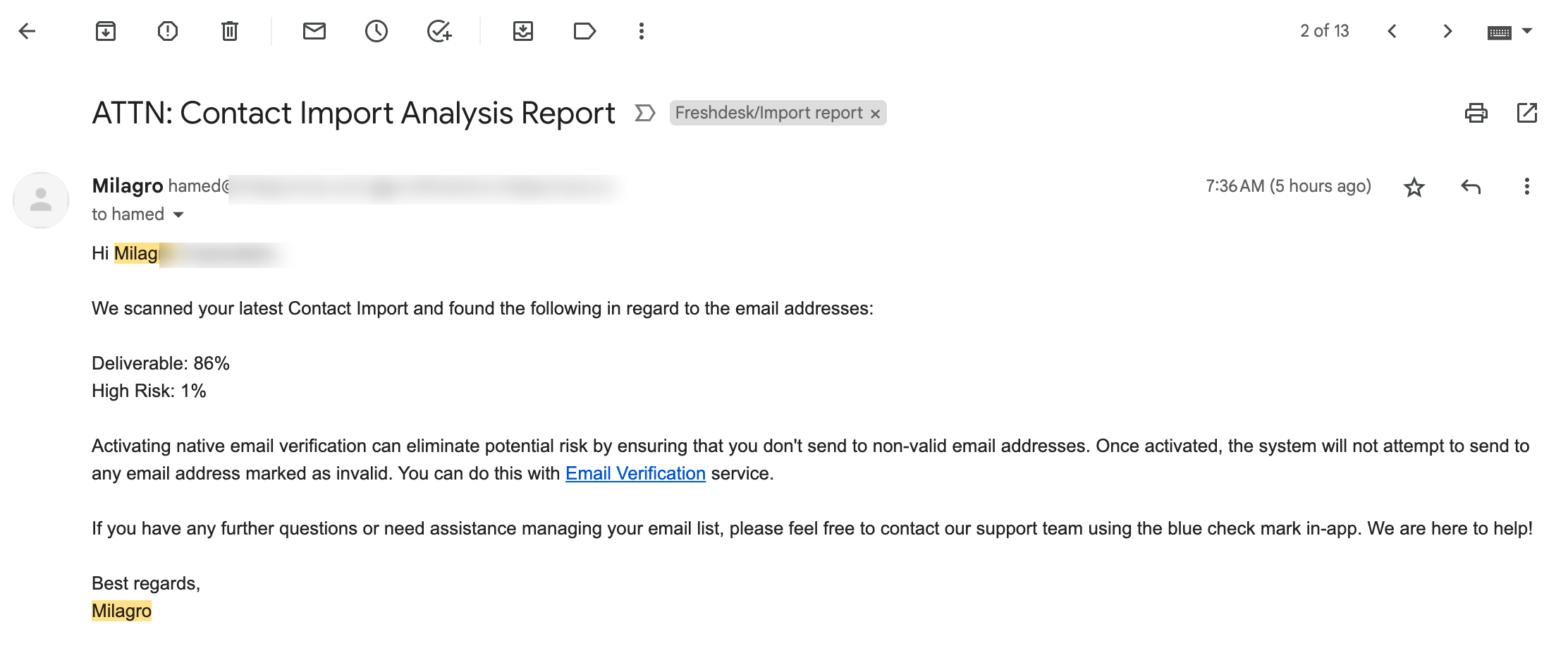 What's Coming Next?
If Deliverable < 90%: An error notification will be prominently displayed.
If the Deliverable is between 91% and 95%: A warning notification alert will be displayed.
Key Benefits
With the enhanced risk assessment feature, users can expect the following benefits:
Enhanced Deliverability: Elevate the email deliverability rates by identifying potential issues before sending out campaigns.
List Hygiene: Keep the contact lists clean and accurate, improving the overall quality of campaigns.
Proactive Campaigning: Stay ahead of the curve by knowing the deliverability status before initiating an email campaign. This proactive approach mitigates the risk of blocks

Communities
General Updates
Badges for Group Owners and Admins

Introducing badges that prominently highlight owners and admins of groups. This visual distinction not only recognises their roles but also helps members identify key members with administrative rights

Enhanced Like List Visibility

By simply clicking on the like icon, you can easily view the list of users who have liked a post. This provides you with a better understanding of the engagement your posts are receiving and enables you to connect more deeply with your audience.

Streamlined User Onboarding

After signing up, you'll be seamlessly redirected to a preview of communities. You get the quick peek right away and start to engage right away.

Mobile-Responsive Client Portal Login

Accessing your account via the Client Portal is now easier than ever, even on mobile devices. The login screen has been adapted for optimal mobile responsiveness, ensuring a smooth experience regardless of the device you're using.

Bug Fixes

We've resolved an issue where groups were not visible when the owner's contact was deleted. Now, your groups will remain consistently visible, ensuring that important content and connections are never lost.

What's Coming Next:

Invite Members
Course Integration
Paid Private Groups
@ Tagging members
Funnel Builder
Internationalization for new Funnel Builder
We are thrilled to announce the addition of Internationalisation support to our new Funnel Builder allowing users to access them in their preferred language. This feature enhances usability and provides a better overall experience for users who speak languages other than English.
What's New:
Users can select their preferred language from a list of available languages.
Internationalization support for multiple languages:

German
Spanish
French Canada
French France
Dutch
Portuguese Portugal
Portuguese Brazil
Italian
Swedish
Spanish
Finnish
Norwegian

The platform has been expanded to support these additional languages, enabling users from different regions to seamlessly connect their domains.
New Behavior:
With the addition of Internationalisation support, users can choose their desired language when using the new Funnel builder. The platform will display all relevant information, instructions, and prompts in the selected language, providing a tailored experience for each user.
Pain Point Resolved:
The introduction of Internationalization support addresses the pain point of language barriers faced by users when building their funnels/websites. By offering support for a wide range of languages, including German, Spanish, French Canada, French France, Dutch, Portuguese Portugal, Portuguese Brazil, Italian, Swedish, Finnish, and Norwegian, we empower users worldwide to effortlessly utilize our funnel builder.
We are committed to continuously improving our platform's accessibility and user experience. In the future, we plan to expand the Internationalization support to include more languages, ensuring that users from diverse backgrounds can fully leverage the benefits of Funnel builder.
Affiliate Manager
Multi-Commission Support & Granular Product Commission Details
We're thrilled to introduce an exciting enhancement to our Affiliate Manager app! Our latest update not only brings you the flexibility of product based commission support at the product level but also empowers your customers with a more granular view of commissions for each product.
Key Features and Benefits:
Link Commission to Product Variants: You can now set distinct commission rates for different variants of the products. Our app enables tailored commissions to match your product hierarchy.
Fine-Tune Commission Strategies: Customize commission values for each product variant to implement dynamic commission strategies. Drive affiliates to promote specific variants with higher commissions, optimizing your affiliate incentives.
Global and Individual Settings: Maintain a consistent commission structure or override commissions for specific product variants. Enjoy flexibility while streamlining affiliate management with backward compatibility for previously created campaigns.
Effortless Configuration: Easily set up product based commission values from your campaign create/edit. Our app seamlessly handles commission attribution based on the referred product variant.
Product Based Commission Visibility: For customers and affiliates, each product page now displays detailed commission information. This includes variant-specific commission rates, ensuring transparency and motivation to promote effectively.
Comprehensive Affiliate Dashboards: Affiliates can now access dashboards that showcase their performance for each product variant. They'll have insights into clicks, conversions, and commissions earned for each variant they've promoted.
How to Explore Product Based Commissions:

Visit the campaign create/edit page on affiliate manager.
Scroll down to find the "Campaign commission type" section and select the type to product based commission.
Click on the variant options to reveal commission rates for each variant and save.
Gain insights into how commissions vary across different product options available on the customer table of the individual affiliate.
Memberships
Empower Your Course Creation Experience with Analytics
Membership feature Overview
With this latest feature enhancement, course creators can now monitor the progress of every user enrolled in their courses.
Accessible via main menu (Memberships > Analytics > Membership Analytics)
Features
Search Options

Search for members using their email address in the "Search by email" feature.

Member Progress

Click on the view icon to access detailed learner performance information for each product, sub-category, and lesson. User information is also provided.

Filtering Products

Toggle products and Offers in the Filters. Feel free to choose any number of products or offers that you prefer.

% Categories Progress

Instructors can check the progress of individual posts by clicking on the respective category.

Marking Completion

Instructors now have the ability to mark posts as complete. Simply use the checkbox to do so. As a bonus, the progress bars will dynamically adjust to reflect changes in category and product performance.

Manage Offers

Make comprehensive adjustments to the existing attached offers with ease. Whether you want to add new offers, remove existing ones, this feature allows you to update offers directly from member progress.

Revamped Design

We've executed a comprehensive redesign of the Payment modal within our Preview Side App.

Improved Logging

We've replaced outdated legacy code used for logging in the membership backend with the @platform-core/logger solution.
Blogs
CONTENT AI – IMAGE Support
We are delighted to introduce the addition of Image AI to our Content AI capabilities. This isn't just another feature—it's a step towards transforming how users generate and share engaging visuals. With Image AI, users can craft stunning high-resolution images.
How to Use Image AI in Blogs:

Head over to: Site > Blogs
Create New blog post and add element of image
Click: The Image icon and select "Create Image with AI."
Input: Your desired prompt, select your style, and the number of variations.
Surveys
New Terms and Conditions Element Added to Survey Builder
This release introduces an important update to ensure compliance with A2P (Application-to-Person) regulations in the United States. To meet the upcoming requirements, we have added a new Terms and Conditions (T & C) element to the customised section of the survey builder. This element allows users to include consent when collecting phone information.
What's New:
The Terms and Conditions (T & C) element has been incorporated into the survey builder, enabling users to include consent for phone information collection.
When the phone element is moved within the form, the Terms and Conditions element will be automatically added, but users can also add it separately if needed.
The inclusion of the Terms and Conditions (T & C) element in survey submissions ensures compliance with A2P regulations.
Links in Terms and Conditions: Our enhanced element now lets you include clickable links directly within the Terms and Conditions content. Make your legal agreements more interactive and accessible.
Text Color Control: Tailor the appearance of your Terms and Conditions text by selecting the perfect text color. Customize it to match your brand or design preferences effortlessly.
Link Color Control: Achieve consistency and style by choosing the ideal color for your links within the Terms and Conditions. Keep your design harmonious and user-friendly.
Benefits:
Compliance: This release ensures adherence to upcoming A2P regulations by providing an easy way to include consent for phone information collection.
Customizable: Users have the flexibility to add, modify, or remove the Terms and Conditions element as required, tailoring it to their specific needs.
Examples: