Here are our release notes for FG Funnels from September 6th, 2023 through September 15th, 2023. If you have any questions about these updates, or other questions about FG Funnels, please reach out to support@fgfunnels.com or live chat in the app and our team will be happy to help.


Reputation Management
Dashboard UI redesign
We are thrilled to introduce the latest update to our Reputation Management Dashboard with a fresh and modern UI redesign. This release brings a host of exciting changes and enhancements to improve your user experience and empower your reputation management efforts.

Calendars
Meeting Location
In the Collective Booking feature, users can now choose Zoom or Google Meet as the meeting location option. This enables them to effortlessly generate Zoom and Google Meet links whenever an appointment is scheduled.
Why did we do this?

This feedback from our users was considered during the release of Collective Booking. Users expressed a desire to utilize the default Zoom and Google Meet meeting options alongside custom locations, and we've implemented this enhancement accordingly.

Impact of this enhancement

This enhancement greatly improves the user experience of Collective Booking, particularly for those who rely on Zoom or Google Meet for their appointments. Now, users have the convenience of automatically generating meeting URLs when appointments are booked, eliminating the need for a single static meeting

2 way sync for Gmail
We've enhanced 2 way sync for Gmail to support some additional functionalities :
Sync emails to and from an unassigned contact: User can now receive inbound mails into the CRM from a contact who is not assigned to any user.
Support for multiple emails of a contact: Users can now seamlessly sync all the inbound/outbound emails between the user's email and any of the contact's email – primary or otherwise.

Other Fixes:

Contact replies should reflect only in the particular location where a user creates the the contact through the 'Auto bcc address'
'Auto bcc address' to be populated in message details card under 'bcc field'
If a contact exists in multiple locations, a conversation between the contact and user gets populated only in the location from which the user sends an outbound via the CRM.
Forwarded emails from a user to contact to reflect under the corresponding contact's conversation
Support for Embedded image for outbound emails sent via CRM to any contact



Show seats per slot for Class Booking
Feature Overview:
This feature empowers users with enhanced control over the calendar booking widget. Now, users can decide whether to display or conceal the total available seats per slot for Class booking calendars, placing them firmly in charge of how this vital information is presented.
Why did we do this?
This enhancement was driven by feedback from numerous Class booking users who expressed a desire to see seat availability per class directly on the Calendar booking widget. This empowers individuals making appointments to make well-informed decisions based on slot availability.
Additionally, this marks Part 1 of our Class booking enhancement journey. In the next phase, we plan to introduce the ability to "Add Guests" for Class Booking. In preparation for this, it becomes crucial for appointment bookers to have visibility into the total seats available per slot, ensuring they can select a slot that accommodates both themselves and their guests.
Impact:
Individuals booking appointments can now make informed choices based on seat availability in each time slot.

New Group view template
The Neo Group View Template is designed to bring a fresh and modern aesthetic to your group organization. By adopting this template, users can transform the way their groups are presented and accessed, resulting in a cleaner and more attractive interface.
Key Features
Staff Selection: new enhanced experience for Staff selection for a particular service. If the calendar has enabled staff selection for it from the calendar settings.
Sophisticated Design: Neo offers a sleek and sophisticated design, elevating the visual appeal of your groups. It combines aesthetics with functionality for a refined user experience.
Calendar-Specific Images: One of the standout features of the Neo template is its ability to display calendar-specific images. This adds a personalized touch to each calendar within your group.
Integrating Unsplash: To motivate users to upload cover images for the Group view, we've seamlessly integrated Unsplash, allowing users to effortlessly browse and insert images directly from an extensive collection of high-resolution visuals.Streamlined Flow: Neo optimizes the flow of information, making it easier for users to navigate and access the content they need swiftly.


Email Builder
Statistics with Bulk Actions
The Email Builder now ensures uniformity in statistics when using Bulk Actions, including numerical data. Enhanced reporting is now available for all delivery methods in Email Builder, encompassing send now, schedule, batch, and RSS. Users now have access to charts and options to view numerical data and percentages, providing a more comprehensive reporting experience.
How was it?

Email Builder was calculating the data on all the end delivered while bulk actions was showing data based on sent count.
Discrepancies existed in open count calculations between Email Builder and Bulk Actions. Email Builder employed the formula Open count/Delivered.
Confusion arose from varying terminology usage, such as "attempted" and "successful", leading to customer mix-ups.
Skipped emails were factored into Error statistics, akin to hard bounce and soft bounce metrics.

Solution Implemented:

Implemented a simplified UI to align with Bulk Actions, reducing ticket counts and streamlining the user experience.
Added a chart to illustrate email statuses over time, offering a visual representation of email performance.
Adopted the industry-standard formula for calculating Open Rate: Open Count/Sent, in line with competitors in the market. This ensures consistency in reporting metrics and facilitates a clearer understanding of email performance.
Enhanced Email Marketing
Email Builder has just rolled out some fantastic enhancements to elevate your user experience. Let's dive into the awesome updates:
Lightning Fast Send and Schedule Page Load
No more waiting around! We've squashed the pesky bug where the Send and Schedule Page took its sweet time to load. Now, with optimized queries, it springs to life right away, ensuring you can get down to business without any delays.
Spot-On Text Editor Tooltips!
Say goodbye to confusion! We've corrected a minor hiccup where A/B Test Labels were appearing on the wrong elements in the In-Line Text Editor. Now, your editing experience will be smooth, seamless, and completely intuitive.

Permission Perfection
Your peace of mind is our priority. Previously, there was a sneaky issue where users without permission for a smart list could still select and schedule emails. Fear not! We've tightened the reins, ensuring that only users with the right permissions can access and utilise smart lists.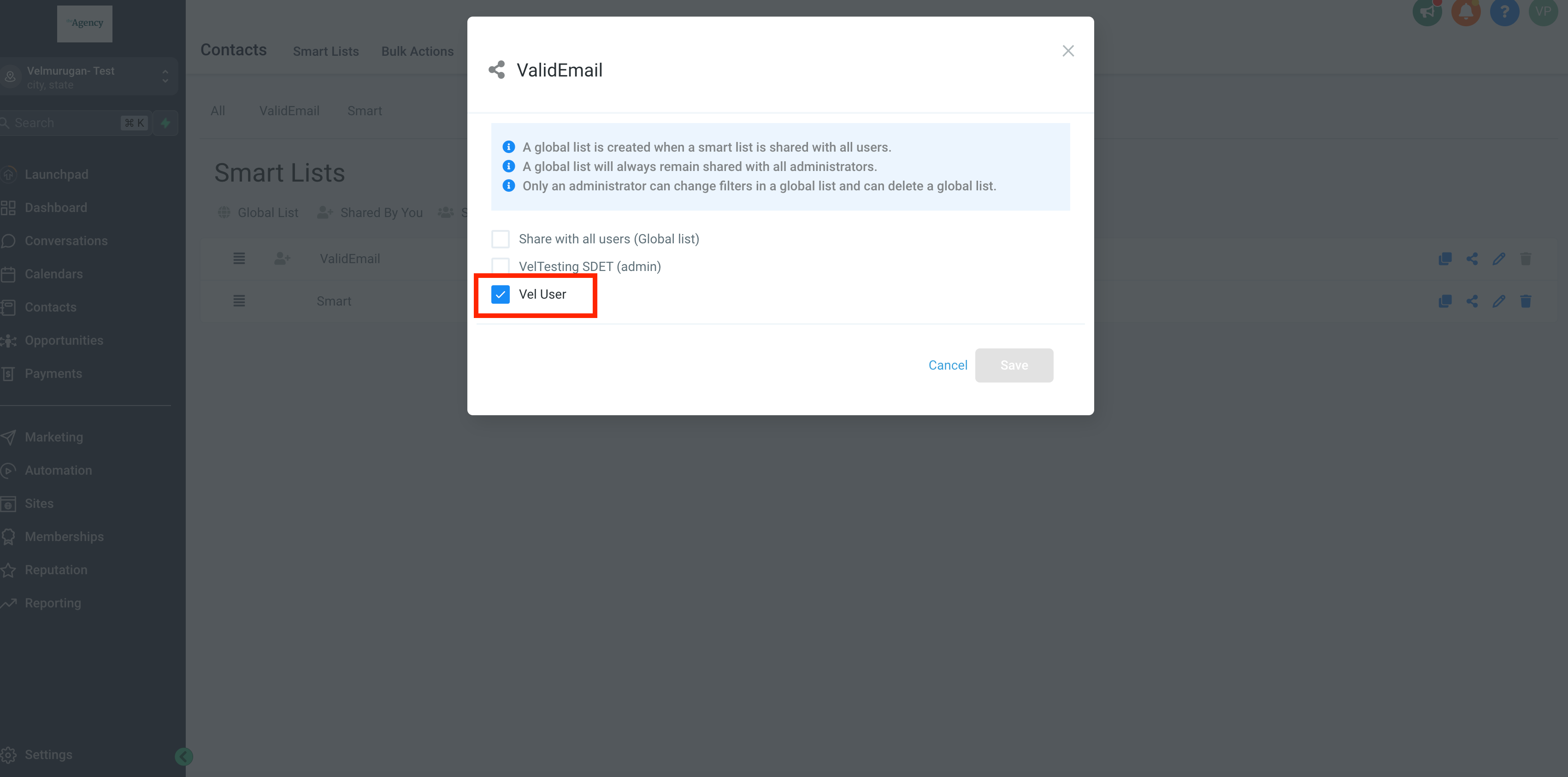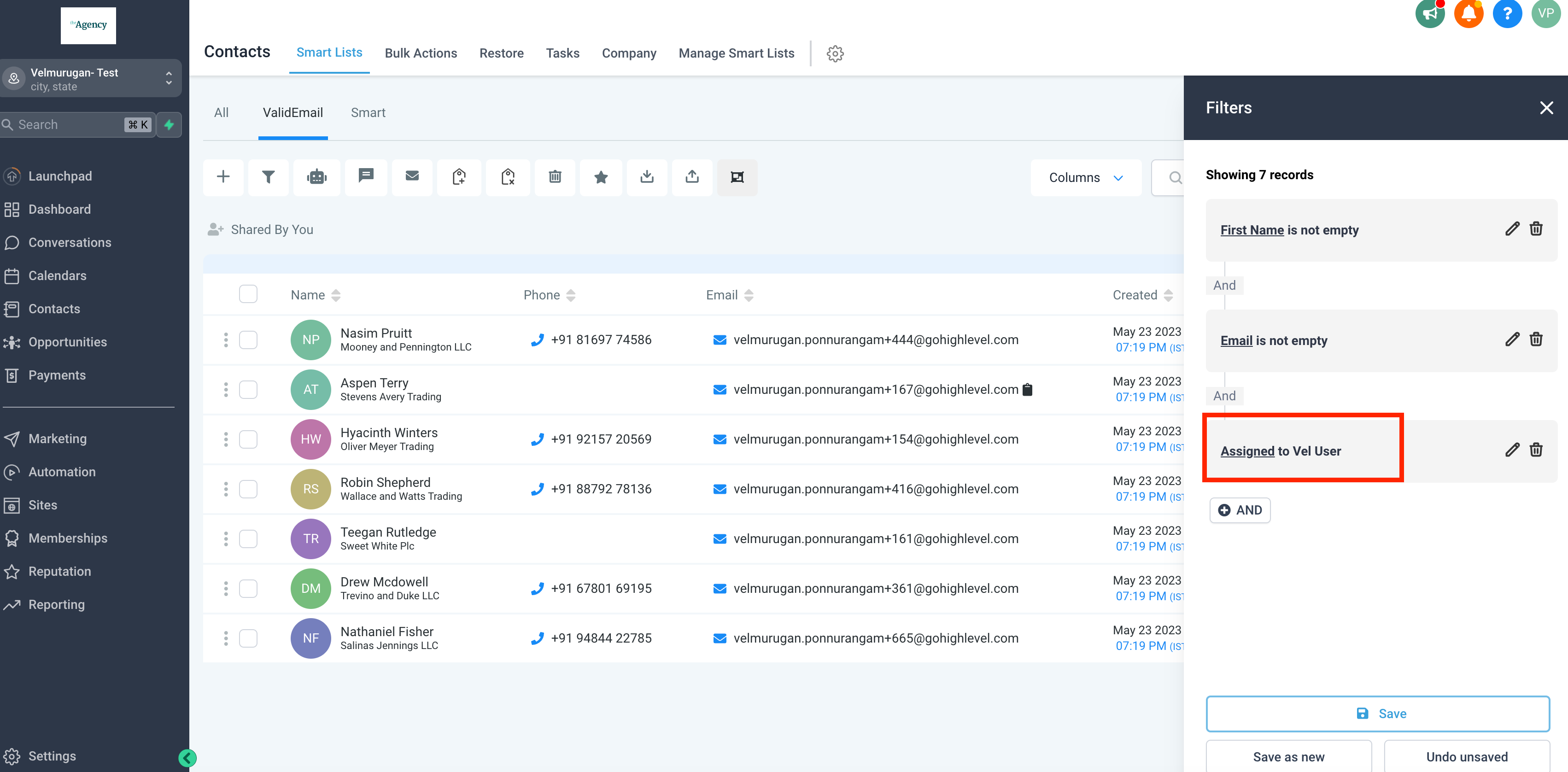 Funnels & Websites
Newly Revamped: Geometric Collection Now Uses SVGs!
Our Funnel Geometric Collection has been updated to now utilize SVGs for the template's backgrounds and included graphics. This means it is easier than ever to change the colors of all the elements on each page to match with your branding, all without leaving the page builder.
If you would like to use this newly revamped collection in your next funnel or website build, just load a fresh copy of the Geometric collection into your account from the Request Collection menu.
We are in the process of updating the rest of our collections that were designed prior to the SVG Editor being released inside the Page Builder. Next up will be the Funnel Love Collection.
reCAPTCHA 3 Validation – Order Forms in V2 Funnels & V2 Offer Checkouts in Memberships
Old Behavior

There was no limit on Payment API's and Opt-in API's which allowed anyone to exhaust the API or use it for malicious activities like Card Testing

Bots were able to fill in Order forms & V2 Offer checkouts in Memberships
New Update

reCAPTCHA 3 is added to Order Forms in V2 Funnels & V2 Offer Checkouts in Memberships which prevents bot activity on them.

Users showing malicious activity in Funnels/Websites and V2 Offer Checkouts will be shown captcha to proceed
What are the advantages of using reCAPTCHA 3 in Funnels/Website/Offer Checkouts?

Bot Prevention
User Verification
Spam Protection
Security
Data Quality

Conversations
All-In-One Conversations
Once a user has linked all the phone numbers to a contact, they'll be able to send and receive messages from all of them right in one place.
Add Multiple Phone Numbers to a Contact:

Users can link multiple phone numbers to a contact directly in Conversations.
They can add phone numbers (11 max), edit, add labels (work/mobile/home/ landline) , set a phone num as primary or delete phone numbers directly from the Conversations module (from right panel)

Make Calls Easily:

Users can now place a call to any of the linked phone numbers directly from the Conversations page.

Availability: This feature is now accessible as "Multiple Phones in Conversations" under the Labs section.
Sticky Filters
With this feature, selected filters and sorting preferences in Conversations will remain preserved until users decide to clear them.
What's new?
In any of the following scenarios, selected filters and sort options will remain intact:

Navigating to Other Modules in the same location: Switching between modules like opportunities, contacts, calendars, and more won't affect conversation filters and sorting. The last visited tab also stays preserved if a user navigates to any other module in the same location
Refreshing the Page
Closing and Relaunching the page
Switching Locations in an agency (according to user permissions)
Logging Out and Back In
Impact for users
This helps in :

Effortless Navigation: Users can enjoy a consistent experience as their chosen filters and sorting makes conversations easier to manage.
Time Saving: No more reapplying filters or sorting each time users return to conversations

Availability

It's available under Labs as "Sticky Filters"

Social Planner
Customization for Each Post
Creating a vibrant online presence on all social networks might seem daunting and costly. But guess what? It doesn't have to be! It's totally possible to do it without draining your wallet or consuming all your time.
Customizing social media posts for each platform is essential because different platforms have unique audiences, content formats, and engagement strategies. Sometimes, also due to platform limitations, you won't be able to share the same content across all your accounts.Tailoring your posts ensures they resonate with the specific demographics, behaviors, and preferences of users on each platform. Customizing posts showcases that you value your audience's experience and are committed to delivering relevant, valuable content to them.
Customizing social media posts for each platform offers several advantages:
Optimized Engagement: Different platforms have unique user behaviors and preferences. By tailoring content, you can capture the attention of specific audiences more effectively.
Improved Relevance: Customized posts are more likely to resonate with the interests and needs of users on each platform, leading to higher engagement rates.
Maximized Visibility: Each platform has its own algorithm and content format. Adapting your posts ensures they align with the platform's requirements, increasing the likelihood of being seen by a larger audience.
Enhanced Brand Image: Tailored content demonstrates that you understand and value your audience. This personal touch can strengthen your brand's reputation and foster a sense of connection with your followers.
Increased Click Through Rates: Customized posts can include platform-specific features like clickable links, hashtags, or tags, which can lead to higher click-through rates and website traffic.
Efficient Resource Allocation: Customization allows you to allocate resources more efficiently by focusing on the platforms that yield the best results for your specific goals.
Improved Analytics and Insights: Customizing posts makes it easier to track and analyze performance metrics on each platform, providing valuable data for refining your social media strategy.
Consistent Branding with Flexibility: While maintaining a consistent brand identity, customization allows for flexibility in adapting your message to suit the unique characteristics of each platform.
Showcasing Versatility: Demonstrating your ability to adapt to different platforms showcases your versatility and agility in the ever-evolving digital landscape.
In summary, customizing social media posts for each platform is a strategic approach that maximizes engagement, relevance, and impact, ultimately contributing to the overall success of your social media marketing efforts.
How to Customize your Social Post for Each Social

1. Go to Marketing > Social Planner.
2. Create New Social Post by going to Clicking "New Post" or use social calendar plus icon
3.Select the Socials for scheduling your post.
4.Once the socials are selected, add your content for the post.
5. If you want to customize for each social, toggle on Customized for Each Social.
6.Add content for each channel based on your need.

Note – Images/Videos will have the same asset across.
YEXT
Yext Availability in Australia
Yext Listings is now available for all our customers in Australia. We have successfully established support with over 45+ active listings.
Popular Listings supported in Australia:

Amazon Alexa
Apple
Bing
DoorDash
Facebook
FourSquare
Google Business Profile
NextDoor
OpenTable
SnapChat
TripAdvisor
TrustPilot

Coverage for Over 45+ Online Listings: We now supports a comprehensive range of over 45+ online listings in Australia, including popular platforms like Google Business Profile, Bing, Facebook, Apple Maps, and many more.
Enhanced Digital Knowledge Management: Businesses can now take full control of their digital knowledge, ensuring that accurate and up-to-date information is presented across various online directories and search engines.
Increased Visibility: With Yext Listings, Australian businesses can improve their online visibility, making it easier for customers to find and connect with them.

Communities
Invite Members
What's New :
Invite via Email: Admins and Owners can initiate the invitation process directly from the 'People' tab by clicking the 'Invite Member' button.
Personalized Invitations: Admins and Owners can enter the name and email of the person they wish to invite, adding a personal touch to the invitation
Admin Privileges: Admins and Owners can also choose to grant admin privileges to the invited member when they join, giving them enhanced control and access
Automated Email Notifications: Upon clicking the 'Invite' button, an automatic email notification will be sent to the invited person, simplifying the invitation process
What's coming next:
@ Tagging members
Pinned Posts
Course Integration
Paid Private Groups
Private Group Enhancements
Membership Rejections Notifications: Members will now get an automatic notification when their requests are declined.
Quick Notifications: Admins and owners will instantly know about new membership requests.
Public Group Enhancements:
Welcome Aboard: New members of public groups are greeted with a welcome email, ensuring a smoother onboarding.
Notifications to Admins and Owners:
Stay in the Loop: Admins and owners now receive immediate notifications for new membership requests. And there's more – we've streamlined the process with auto-login and direct access for requested members.
UI/UX Optimizations:
A Refreshing Look: We've spiced things up with design tweaks in various sections, such as the home timeline, user profiles, and group settings.

Payments
Product Details now available inside Orders list export
Product line item information will now be available in the CSV export of the Orders list. The following fields will be available for the line items purchased in the checkout
Line item Name
Line item Quantity
Line item Price
Line item Discount
Line item Subtotal
Line item Product ID
Line item Price ID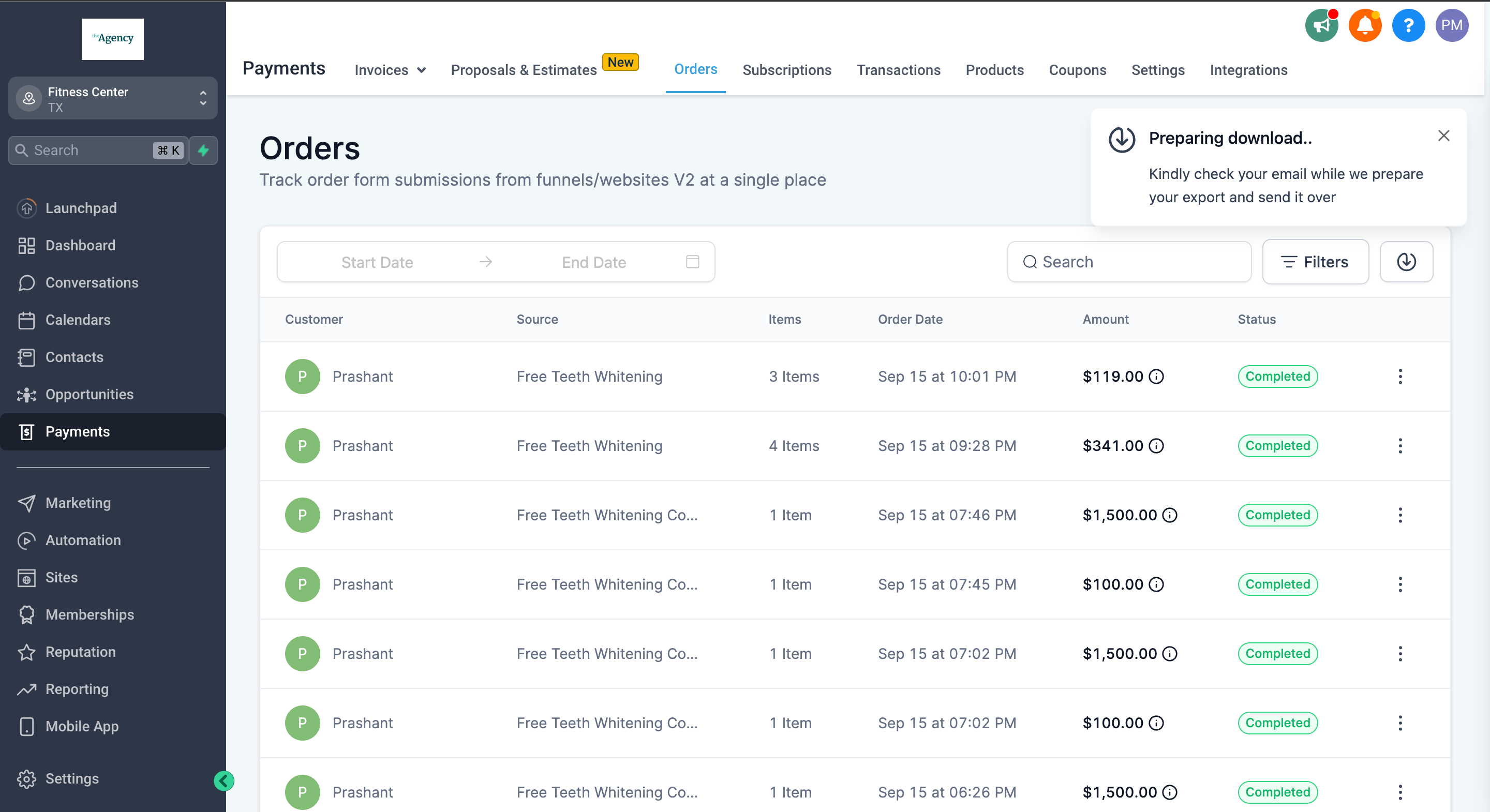 Domain Connect
Introducing Manual Record Addition for Domain Connect 
We're delighted to bring an important update to Domain Connect that offers more flexibility and control over the domain configurations. Here's everything you need to know about this game-changing enhancement!
Customization Flexibility
Previously, if the domain provider wasn't supported, customization options were limited.
With manual record addition, clients have complete control over their DNS settings, catering them to their specific needs.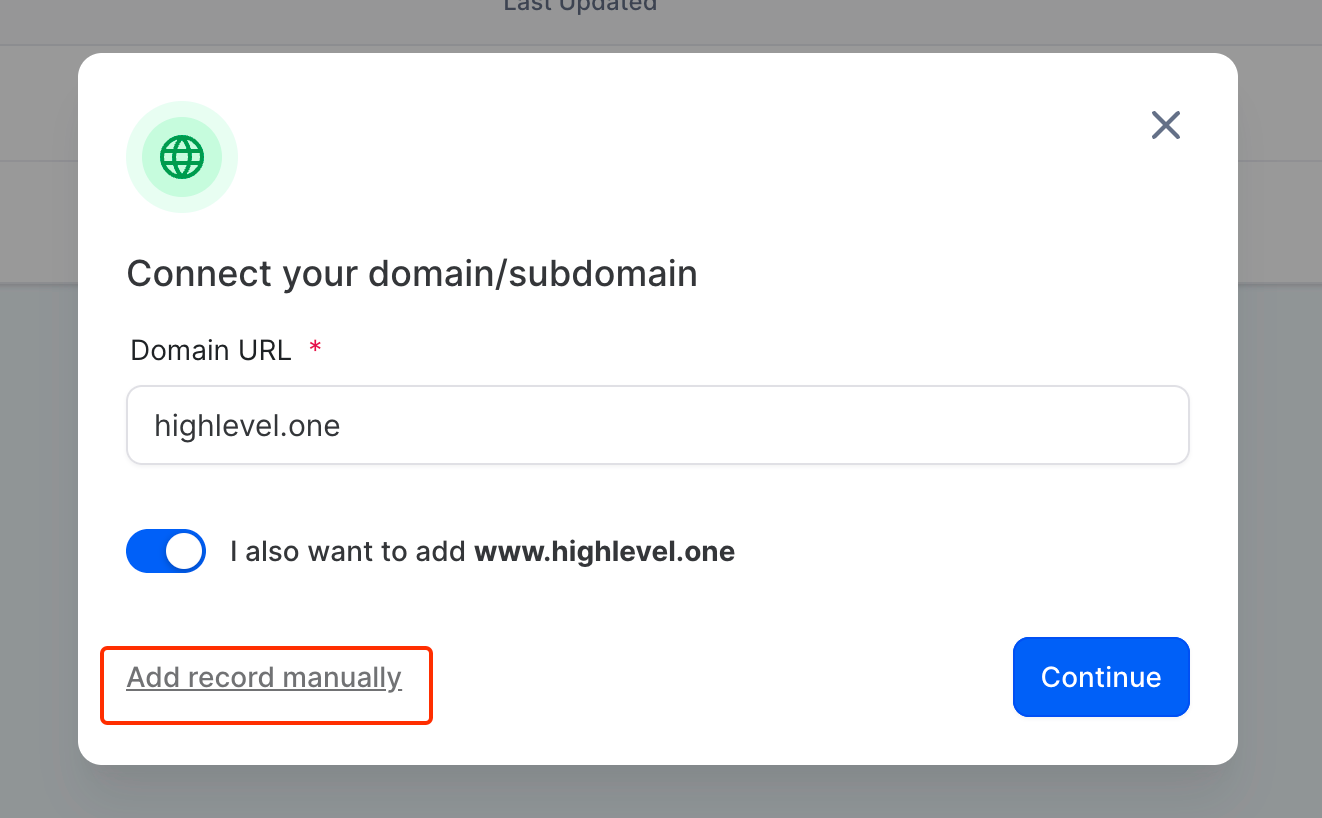 New Features
Manual Record Addition
Clients can now manually add DNS records for their domain, even if the domain provider isn't one of our currently supported providers like Google, Go Daddy, or Cloudflare.
This new addition allows will tailor the DNS settings according to their unique requirements while enjoying the convenience Domain Connect offers.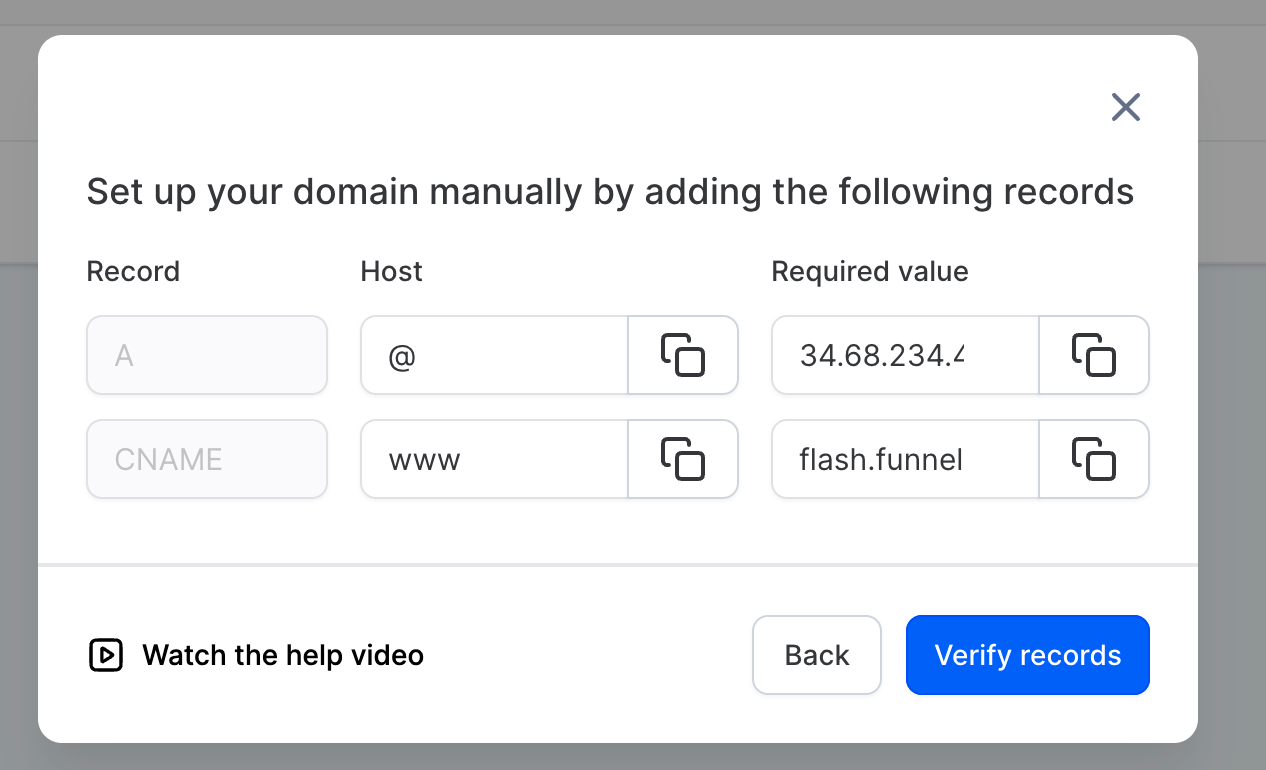 How to Use the New Feature
Navigate to Domain: Head over to the "Domain" tab and click "Add Domain."
Input Domain Details: Enter the root or subdomain in the field provided.
Optional: If adding a "www" subdomain, you'll see an option to include the root domain as well. Toggle this option as per the client's needs.
Manual Addition: Click the "Add Record Manually" button.
Verification: Confirm the newly added records.
The ability to manually add DNS records is the most notable new feature, providing increased control and customization for the domain settings.